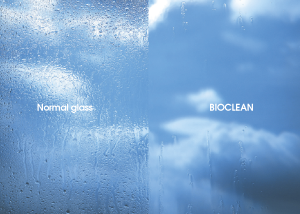 Low-maintenance self-cleaning glass
BIOCLEAN is a low-maintenance self-cleaning glass manufactured by depositing a transparent layer of photocatalytic and hydrophilic mineral material onto clear glass. The coating, which is integrated into the glass itself, ensures a high level of durability. The mechanical, thermal and acoustic properties of BIOCLEAN are identical to normal glass.
The BIOCLEAN range consists of 4 products offering different colour options & performance benefits
BIOCLEAN Aqua – with Solar control
BIOCLEAN Natura – with Solar control
BIOCLEAN Solara
BIOCLEAN Azura
BIOCLEAN self-cleaning glass will revolutionise the way you clean your windows. It has been designed for external use, either in the home or commercial buildings, both new build and refurbishment projects including:
Windows and patio doors
Conservatories, balconies and overhead glazing
Glazed façades, exterior shopfronts and display windows, overhead and atria glazing, street furniture
Hard to reach areas
The most neutral self-cleaning glass available – no unsightly tint or reflective surface. Looks just like normal glass!
Less frequent cleaning – windows stay cleaner for longer.
Much easier cleaning – less dirt and grime adheres to the glass.
Save money – the cost of window cleaning is reduced.
Ideal for hard to reach areas – clean where you have never been able to clean before!
Permanent coating – lasts the lifetime of the window.
Environmentally friendly – less frequent use of water and detergents.
Now available with an advanced performance solar control coating.
Avoid all contact between the glass and pointed or sharp objects. Avoid all direct contact with silicone (sealants, sprays, suckers, gloves). Always position the coated face towards the outside of the sealed unit and laminated glass. Separate stock or processed glass with non-adhesive transit pads.
Product
Light Transmittance LT (%)
Solar Factor
g-value
Shading Coefficient SC
External Light Reflectance LRe (%)
Internal Light Reflectance LRi (%)
U-Value (EN 673)
W/(m².K)
Self-cleaning glass  (DGU 6+12+6mm )
 
 
 
 
 
12 mm air
16 mm argon

SGG 

BIOCLEAN II 
78
0.73
0.84
17
17
2.8
2.6

SGG 

BIOCLEAN II ULTRA N II3
77
0.57
0.65
15
15
1.6
1.1

SGG 

BIOCLEAN SC II clear
45
0.45
0.52
24
23
2.8
2.6

SGG 

BIOCLEAN SC II green
37
0.29
0.33
23
19
2.8
2.6

SGG 

BIOCLEAN-e
75
0.72
0.83
20
19
2.8
2.6

SGG 

BIOCLEAN-e PLANISTAR SUN
66
0.34
0.40
18
18
1.5
1.0

SGG 

BIOCLEAN-e SKN 174
64
0.38
0.44
17
15
1.6
1.1

SGG 

BIOCLEAN-e SKN 165
56
0.31
0.35
21
20
1.5
1.0
(1) DGU 6 mm + 16 mm argon + 6 mm