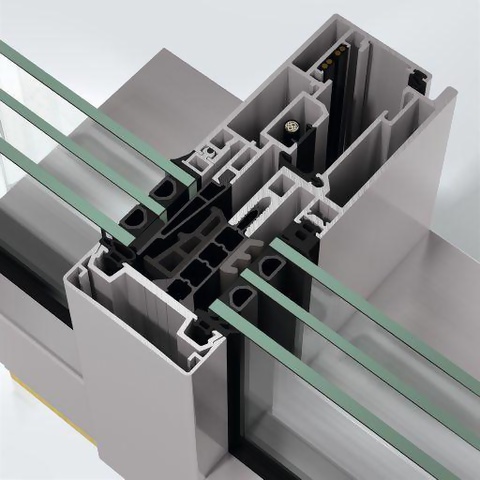 Min. face width 60 mm
Energy
Uf value to 1.5 W/(m²K) including screw factor with 50 mm glass
Ucw value of 0.84 W/(m²K) with a unit size of 1.2 m x 2.5 m, for example, with a Ug value of 0.7 W/(m²K)
Design
Slimline profiles with the same look for vents and fixed fields
Merging of the vent and load-bearing structure: no additional insert outer frame required
Vent and outer frame flush-fitted with minimal shadow gap
Turn/tilt window possible
Can be used for classic, floor-to-ceiling ribbon windows including safety barrier and punched opening
Security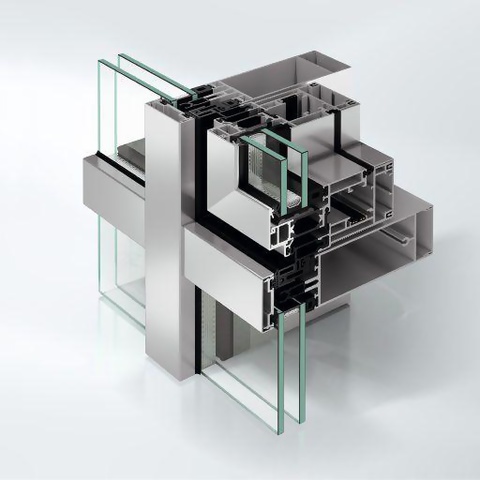 Min. face width 50 mm
From passive house-certified SI façades with maximum thermal insulation through to standard thermal insulation, the FW 50+ systems offer the right solution for every scenario and all climate regions
Geometrically complex skylight constructions can be easily constructed
A wide range of cover caps offer outstanding design options for a variety of façade styles
Bullet resistance, burglar resistance and blast resistance options
Can also be used as a fire-resistant façade (BF)
Electric cables are concealed within the façade system, but can be accessed for inspection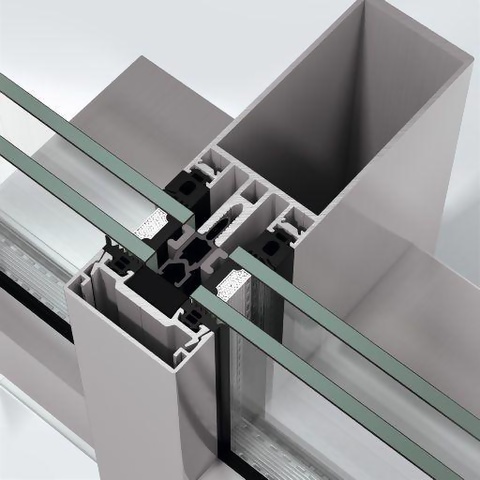 Min. face width 50 mm
Narrow profile face widths of 50 or 60 mm
Large module widths and installation heights can be used with glass loads of up to 7 kN
A wide range of cover caps offer outstanding design options for a variety of façade styles, e.g. visible screw-fitted caps, flat cover caps or steel look cover caps
FW 50+ can be created with a horizontal or vertical accent, held in position on 2 sides
Bullet resistance, burglar resistance and blast resistance options
Can also be used as a fire-resistant façade (BF)
Concealed integration of a lightning conductor device in the façade system
Skylights can be combined with all Schüco roof vents
Quick and easy installation due to a high degree of prefabrication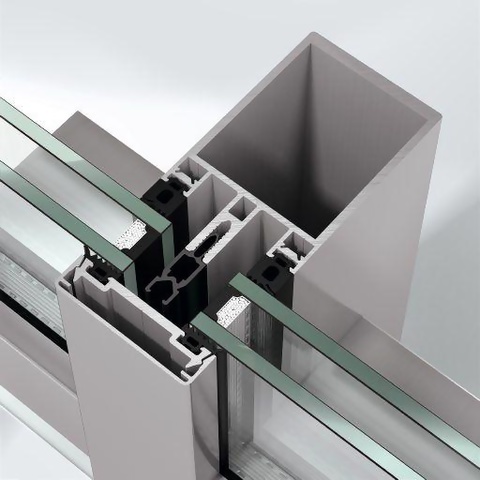 Min. face width 60 mm
From passive house-certified SI façades with maximum thermal insulation through to standard thermal insulation, the FW 60+ systems offer the right solution for every scenario and all climate regions
Geometrically complex skylight constructions can be easily constructed
A wide range of cover caps offer outstanding design options for a variety of façade styles
Bullet resistance, burglar resistance and blast resistance options
Can also be used as a fire-resistant façade (BF)
Electric cables are concealed within the façade system, but can be accessed for inspection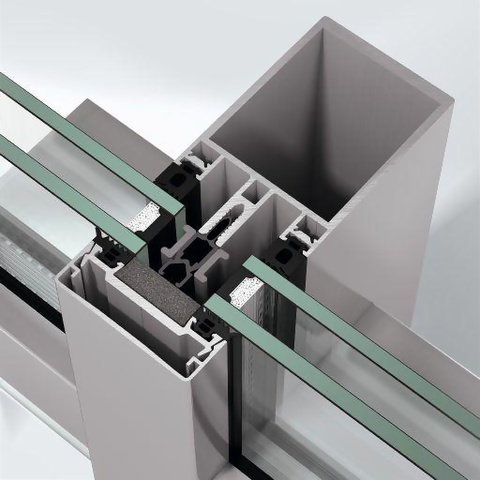 Schüco FaçadeFW 60+.HI: System solutions for vertical facades and skylights
Min. face width 60 mm
Narrow profile face widths of 50 or 60 mm
Large module widths and installation heights can be used with glass loads of up to 7 kN
A wide range of cover caps offer outstanding design options for a variety of façade styles, e.g. visible screw-fitted caps, flat cover caps or steel look cover caps
FW 60+ can be created with a horizontal or vertical accent, held in position on 2 sides
Bullet resistance, burglar resistance and blast resistance options
Can also be used as a fire-resistant façade (BF)
Concealed integration of a lightning conductor device in the façade system
Skylights can be combined with all Schüco roof vents
Quick and easy installation due to a high degree of prefabrication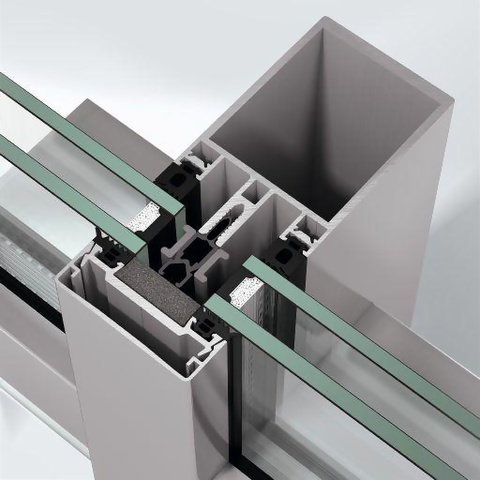 Min. face width 50 mm
Optimised thermal insulation using intelligent isolator system with Uf values to 0.70 W/(m²K) including screw factor
Reflective surfaces on the insulating strip and on the plastic pressure plate reduce energy losses due to thermal radiation
Can bear large glass loads of up to 700 kg per transom using system articles (FW 50+)
Triple glazing with up to 82 mm glass thickness possible due to the comprehensive glazing support system
A variety of products with different profile depths and a comprehensive range of cover caps to meet virtually any architectural and construction requirements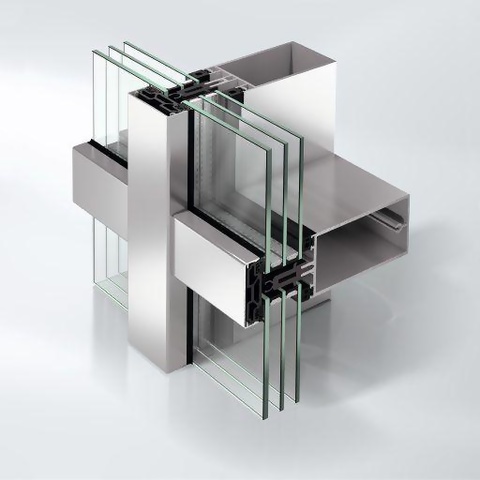 Min. face width 60 mm
Optimised thermal insulation using intelligent isolator system with Uf values to 0.70 W/(m²K) including screw factor
Reflective surfaces on the insulating strip and on the plastic pressure plate reduce energy losses due to thermal radiation
Can bear large glass loads of up to 700 kg per transom using system articles (FW 50+)
Triple glazing with up to 82 mm glass thickness possible due to the comprehensive glazing support system
A variety of products with different profile depths and a comprehensive range of cover caps to meet virtually any architectural and construction requirements
Schüco Façade FW 50+.SI Green
Min. face width 50 mm
Combination of sustainability with maximum energy efficiency to passive house standard
Compatible with Schüco Window and Façade Module ProSol and ProSol TF
Pressure plate made from glass fibre-reinforced plastic from renewable raw materials
Inner and outer glazing gaskets with renewable raw materials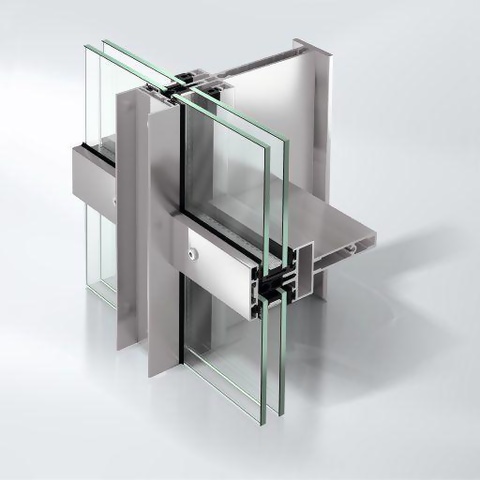 Min. face width 50 mm
The design has an elegant appearance due to the I and T-shaped load-bearing profiles
Steel U-shaped pressure plates with visible screw fixings emphasise the technical character of the system
Transom and mullion profiles are available in graduated dimensions to meet varying structural requirements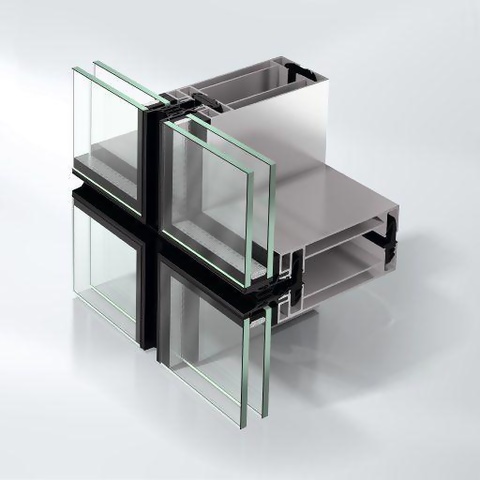 Min. face width 65 mm
Energy
Uf values of 2.4 W/(m²K) up to 2.7 W/(m²K) are possible
Design
Unitised façade with the expansive appearance of an all-glass façade, with narrow face widths of up to 65 mm on the inside
Automation
Integration of Schüco AWS 114 as projected top-hung window or parallel-opening window: possibility of large automated window solutions incorporated in the building management system for standard and SHEVS applications
Security
Comprehensive system tests in accordance with European and American test standards
Enhanced function
Schüco AWS 114 insert units can be integrated as projected top-hung or parallel-opening windows with vent weights up to 250 kg
Hollow chamber profiles and fabrication using mitred corners ensure high unit stability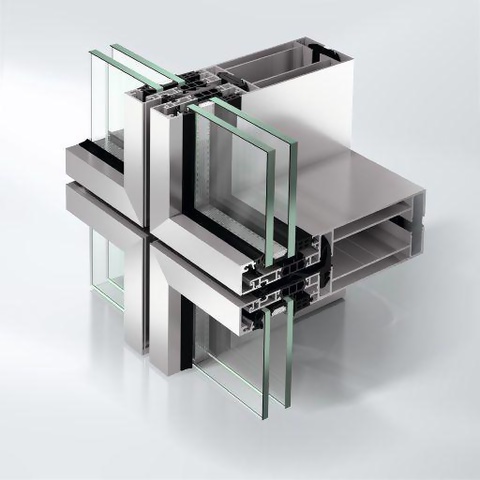 Min. face width 65 mm
Energy
Different lengths of insulating bar with Uf values of 1.4 W/(m²K) to 2.9 W/(m²K) for variable adjustment to different thermal insulation requirements
Design
Continuous narrow face width of 65 mm; glass thicknesses between 4 mm and 16 mm for single glazing and between 16 mm and 56 mm for double insulating glass
Design variants for frame appearance and semi-structural glazing
All opening types can be implemented – from inward-opening turn/tilt vents to outward-opening projected top-hung or parallel-opening vents
Automation
Integration of Schüco AWS 114 as projected top-hung window or parallel-opening window: possibility of large automated window solutions incorporated in the building management system for standard and SHEVS applications
Insert outer frame profiles for integration of the Schüco AWS window series with Schüco TipTronic fitting
Security
Comprehensive system tests in accordance with European and American test standards
Burglar resistance tested in the system to RC 2
Enhanced function
Large unit dimensions and heavy unit weights of up to 500 kg possible
Integration of a broad range of Schüco windows possible
Two horizontal joint gaps for variable adjustment to different roof deflections: 10 mm to accommodate a ± 5 mm stretch and 20 mm to accommodate ± 7.5 mm stretch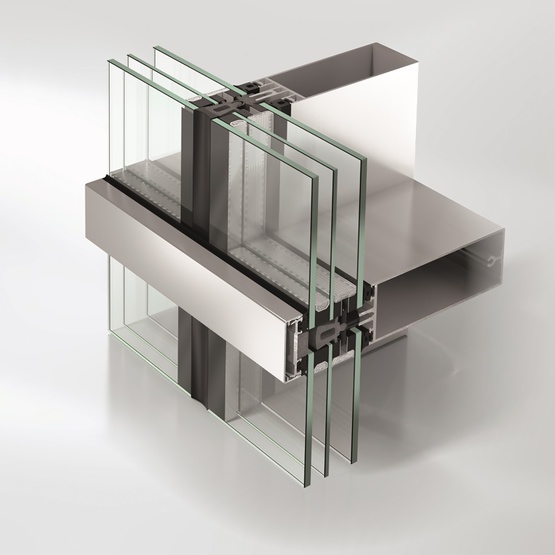 Min. face width 50 mm
Energy
Specially developed, stainless steel spacers which can be processed by machine for airtight edge seal
Highly thermally insulated SI isolators as well as pre-fillers for very good thermal insulation
Aluminum spacers for low to medium thermal insulation requirements
Automation
Integration of Schüco AWS 114 as projected top-hung window or parallel-opening window: possibility of large automated window solutions incorporated in the building management system for standard and SHEVS applications
Security
Tested as suitable for safety barrier loading with slimline stainless steel retaining clips, aluminum retaining clips and clip rosettes
RC 2 burglar resistance
Enhanced function
Structural glazing façade for double and triple glazing with maximum glass dimensions (W x H) of 2600 mm x 4200 mm (in accordance with general building authority approval); glass thicknesses of 32 mm to 64 mm; pane weights up to 650 kg possible with new cruciform glazing supports
Plastic pocket profile as cost-efficient alternative to fixing cleat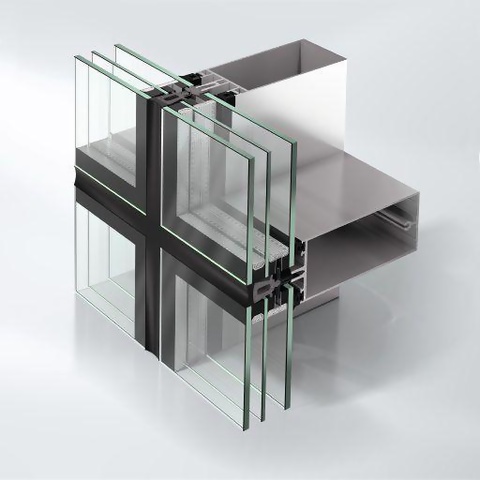 Schüco FW 60+ SG: Structural glazing
Min. face width 60 mm
Energy
Specially developed, stainless steel spacers which can be processed by machine for airtight edge seal
Highly thermally insulated SI isolators as well as pre-fillers for very good thermal insulation
Aluminum spacers for low to medium thermal insulation requirements
Automation
Integration of Schüco AWS 114 as projected top-hung window or parallel-opening window: possibility of large automated window solutions incorporated in the building management system for standard and SHEVS applications
Security
Tested as suitable for safety barrier loading with slimline stainless steel retaining clips, aluminum retaining clips and clip rosettes
RC 2 burglar resistance
Enhanced function
Structural glazing façade for double and triple glazing with maximum glass dimensions (W x H) of 2600 mm x 4200 mm (in accordance with general building authority approval); glass thicknesses of 32 mm to 64 mm; pane weights up to 650 kg possible with new cruciform glazing supports
Plastic pocket profile as cost-efficient alternative to fixing cleat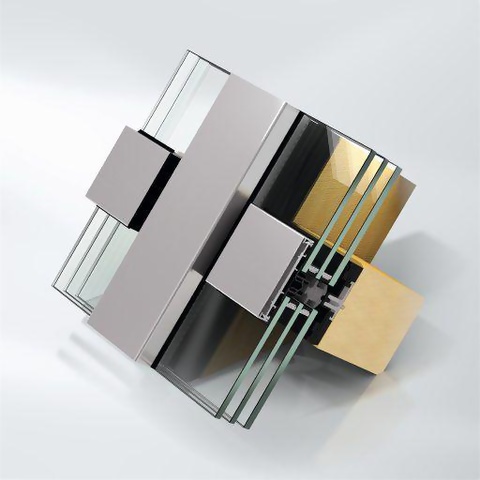 Min. face width 75 mm
Energy
Range of isolators to passive house standard for applications in vertical façades or in the roof area
Automation
Integration of the Schüco Roof Window AWS 57 RO system as an automated solution in the standard application or for large NSHEVS systems
Security
Roof area with butyl tape seal and integrated screw guide for maximum installation reliability
Enhanced function
Special basic profiles with positioning guide for timber fabricators
Standard and flat pressure plates
System articles for the problem-free integration of the Schüco roof window including electric control unit
75 mm system width can be used on steel and timber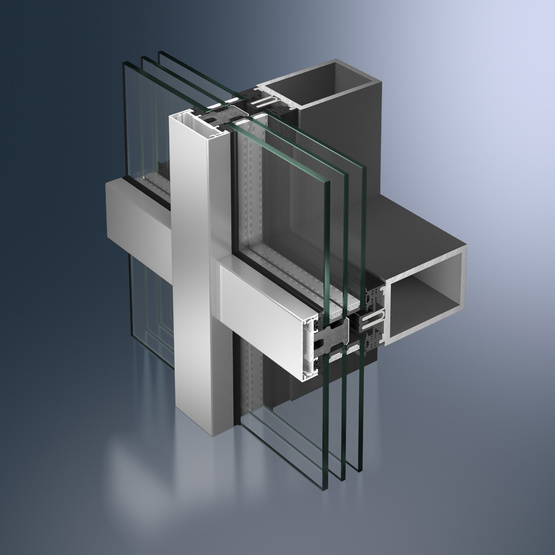 Min. face width 60 mm
Energy
Passive house-certified thermal insulation for vertical façades and roof areas
Design
Add-on construction in system widths of 50 mm and 60 mm on steel and timber for glass roofs and vertical façades
Three drainage levels for maximum design flexibility
Automation
Integration of Schüco AWS 114 as projected top-hung window or parallel-opening window: possibility of large automated window solutions incorporated in the building management system for standard and SHEVS applications
Insert outer frame profiles for integration of the Schüco AWS window series with Schüco TipTronic fitting
Security
Burglar resistance up to RC 2 and RC 3 tested in the system on steel and timber substructures
Enhanced function
System articles enable large glass loads: up to 1190 kg for steel and 810 kg for timber
Compatible with building-integrated photovoltaics (BIPV)
Roof area with butyl tape seal and integrated screw guide for maximum installation reliability
Special basic profiles with positioning guide are available for timber fabricators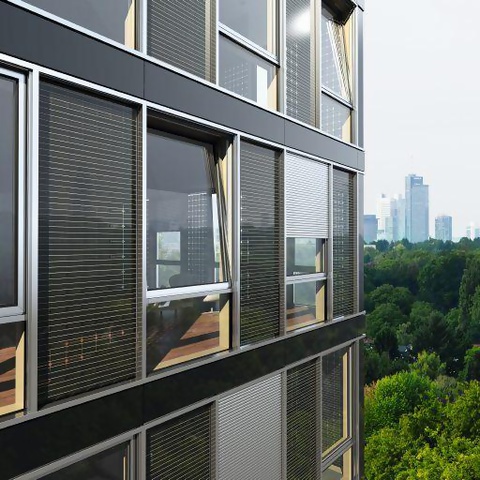 Min. face width 60 mm
Energy
Passive house-certified thermal insulation for vertical façades and roof areas
Design
Add-on construction in system widths of 50 mm and 60 mm on steel and timber for glass roofs and vertical façades
Three drainage levels for maximum design flexibility
Automation
Integration of Schüco AWS 114 as projected top-hung window or parallel-opening window: possibility of large automated window solutions incorporated in the building management system for standard and SHEVS applications
Insert outer frame profiles for integration of the Schüco AWS window series with Schüco TipTronic fitting
Security
Burglar resistance up to RC 2 and RC 3 tested in the system on steel and timber substructures
Enhanced function
System articles enable large glass loads: up to 1190 kg for steel and 810 kg for timber
Compatible with building-integrated photovoltaics (BIPV)
Roof area with butyl tape seal and integrated screw guide for maximum installation reliability
Special basic profiles with positioning guide are available for timber fabricators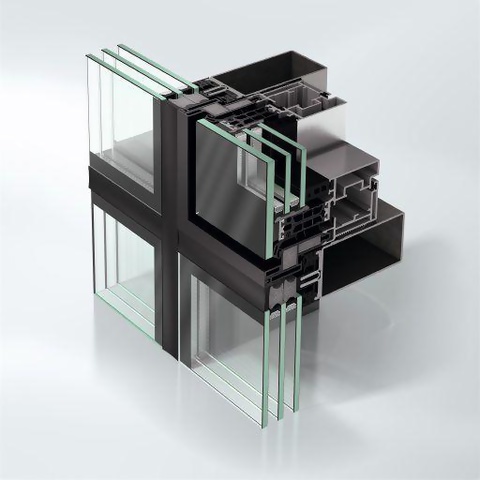 Min. face width 50 mm
Energy

Passive house-certified thermal insulation for vertical façades and roof areas

Design

Add-on construction in system widths of 50 mm and 60 mm on steel and timber for glass roofs and vertical façades
Three drainage levels for maximum design flexibility

Automation

Integration of Schüco AWS 114 as projected top-hung window or parallel-opening window: possibility of large automated window solutions incorporated in the building management system for standard and SHEVS applications
Insert outer frame profiles for integration of the Schüco AWS window series with Schüco TipTronic fitting

Security

Burglar resistance up to RC 2 and RC 3 tested in the system on steel and timber substructures

Enhanced function

System articles enable large glass loads: up to 1190 kg for steel and 810 kg for timber
Compatible with building-integrated photovoltaics (BIPV)
Roof area with butyl tape seal and integrated screw guide for maximum installation reliability
Special basic profiles with positioning guide are available for timber fabricators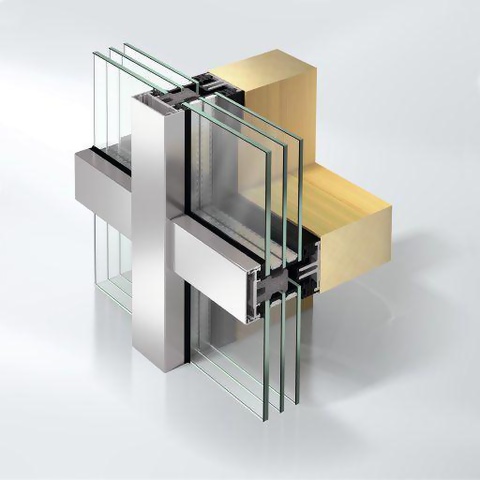 Min. face width 50 mm
Add-on construction in system widths of 50 mm and 60 mm on steel and timber for glass roofs and vertical façades
Passive house-certified thermal insulation for vertical façades and roof area
Three drainage levels for maximum design flexibility
Large glass loads up to 11 kN for steel and 7.3 kN for timber are possible with system articles
Compatible with Schüco Window and Façade Modules ProSol and ProSol TF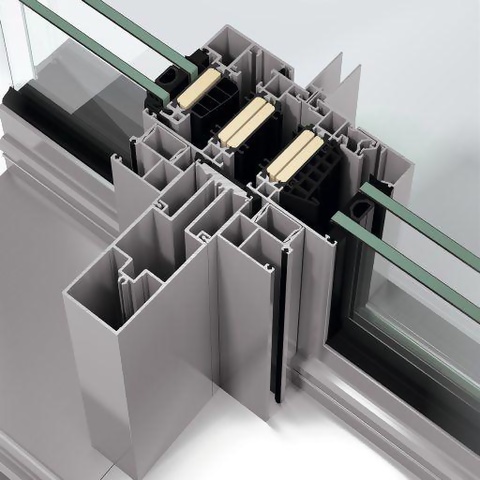 Schüco Modernisation Façade ERC 50
Min. face width 50 mm
Energy
Thermal insulation can be created to meet requirements: from EnEV to passive house standard
Building-integrated photovoltaics (BIPV) for solar energy generation
Integration of the Schüco CAB and Schüco CTB solar shading systems reduces cooling loads and increases user comfort
Design
Diverse design types and surfaces finishes can be created
No supporting spandrel required: façade can be re-divided
Automation
Schüco VentoTherm for decentralised window-integrated ventilation with heat recovery
Schüco TipTronic for window automation
Schüco CTB: motor-driven solar shading systems increase user comfort
Schüco WCS for cable-free component control
Schüco LightSkin as interface-optimised LED illumination solution
Enhanced function
System solution ensures reliability of design and cost certainty
Costs comparable with conventional modernisation solutions, e.g. rear-ventilated curtain walling, ribbon windows or punched openings
Approved console solution with 3D adjustment options and thermal decoupling as well as system-integrated frame anchoring: specially tailored to modernisation needs
When using the Schüco Wireless Control System (WCS), no additional cabling is required in internal areas for the control system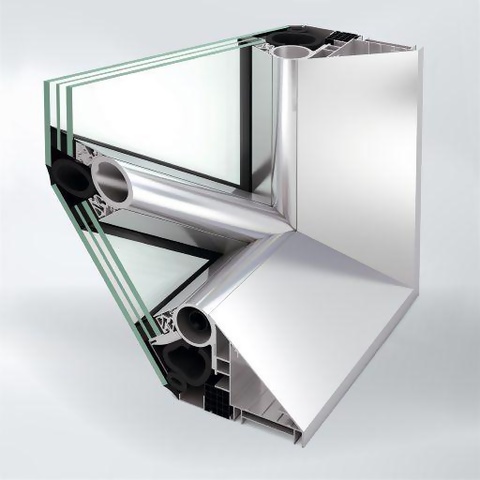 Complex façade geometry with highly sophisticated design, parametric planning methods and coordinated process sequences available in the system for the first time
The Schüco Parametric System is the next stage in the consistent development of the Schüco system façades into three-dimensional geometric building envelopes that allow considerable freedom of design. Based on parametric design methods and the cohesive system approach, the Schüco Parametric System affords maximum freedom to developers, reliability of implementation to fabricators and cost transparency to clients.
Energy
Highly thermally insulated aluminum façade system with Uf vales up to 0.5 W/(m²K)
Schüco 3D design tools: connecting the parameterisation to additional tools, such as building simulation
The surface elements are transparent or opaque to provide shading; there is the option of adding functions such as daylight control and solar energy generation
Design
Individual three-dimensional architectural solutions – no limit to the area thanks to flexible component library
Sunlight and shading, daylight optimisation, views and transparency can be used as active design factors
Elegant structural glazing all-glass façade with slimline joints for double and triple glazing
Combination with additional planning tools creates new possibilities for the generation of parametric forms
Unit dimensions (W x H): maximum 1500 mm x 4000 mm
Automation
Integration of existing Schüco functional solutions without changing system, such as ventilation panels that can be opened, decentralised ventilation units and integrated photovoltaic modules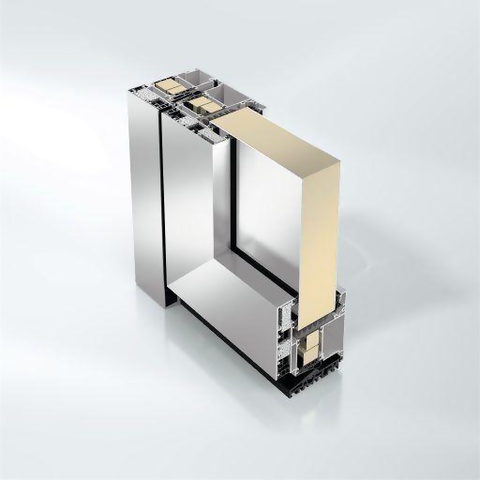 The large doors from the Schüco Door ADS HD (Heavy Duty) system can be used as a striking feature. They endow every building with a specific character. For public buildings in particular, Schüco door systems offer large opening widths and durability in the event of heavy use.
Particularly robust and durable
Ideally suited to busy entrances and exits
Security class up to WK3
Comfortable clearance heights up to 3000 mm
Max. leaf weight: 200 kg
Straightforward use of different types of fitting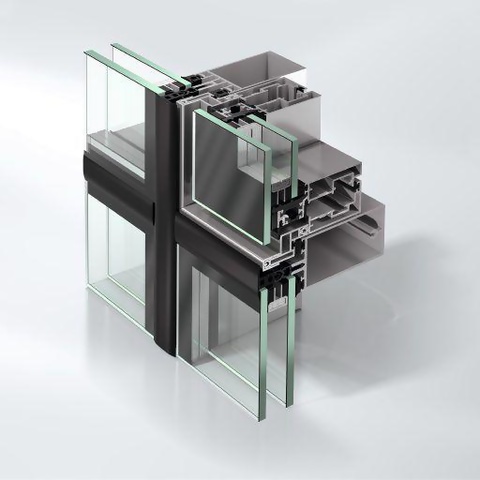 Schüco Window AWS 114 insert unit
Innovative technologies for variable window design and simple installation
The Schüco Window AWS 114 insert unit stands for high efficiency of production, installation and operation – also in the highly thermally insulated variant Schüco AWS 114.SI as a parallel-opening or projected top-hung window. The appearance of the innovative system with large vent formats can be integrated seamlessly into different façade geometries – even for vent weights of up to 250 kg. The comprehensive glazing range enables custom-built solutions for requisite thermal insulation, including triple glazing and glass thicknesses of up to 52 mm.
Whether as an all-glass façade window with stepped insulating glazing (Schüco AWS 114 SG, Schüco AWS 114 SG.SI) or as a façade window with standard insulating glazing and a continuous glazing bead (Schüco AWS 114, Schüco AWS 114.SI) – the insert unit offers a diverse range of design options in nearly all Schüco façade systems.
Energy
Schüco AWS 114 thermally insulated: glass thicknesses of 24 mm to 44 mm
Schüco AWS 114.SI highly thermally insulated: triple glazing and glass thicknesses of 28 mm to 52 mm
SI version: Uf values of up to 1.3 W/(m²K)
Design
Seamless visual integration without compromising the uniform façade geometry
Opening types: projected top-hung and parallel-opening window
Automation
Optional operation with concealed Schüco TipTronic motor drive
Security
Safety class 0 and 4 possible: for projected top-hung and parallel-opening windows thanks to an anti-finger trap roller that is fully integrated in the profile, in accordance with VFF information sheet KB.01 (power-operated windows)
Energy-absorbing limiting stays allow safety barrier loading
RC 2 burglar resistance